Purchasing Patio Doors and French Doors: Things to note

Patio doors made of uPVC, wood or a wooden/aluminium-composition bring light to your home, as well as energetically favorable comfort and most importantly, access to your patio or balcony. The customized products are specifically manufactured and designed for you and can be complemented by a large range of accessories protecting you against burglary and break-ins. Lockable handles, insect screens and roller shutters do not only protect your home with the aid of latest technologies and intelligent glazing systems with integrated thermal and noise insulation, but also your health.
The Patio Door Material also determines the Price
Patio doors and French doors of uPVC are relatively economical. When made out of wood they are somewhat more expensive but compensate for this with their superior appearance. The most elegant solution, of course, is a combination of wood with aluminium. We have all thse possibilities ready for you.
---
HARDWARE AND ACCESSORIES FOR PATIO DOORS
PATIO DOOR PRODUCTION OF THE HIGHEST QUALITY
Producing Your Patio Doors made-to-measure
Quality is something we place great importance on, therefore we produce all our patio doors entirely in Germany using the most modern techniques and technology and only the best quality materials and components. Here you can get an idea of our made to measure service.
Material Selection – Patio Doors of uPVC, Wooden–Aluminium or Wood
Whereas, in the past, the manufacture of patio doors was strictly limited to woods of different sorts, today we are able to offer a range of different material alternatives.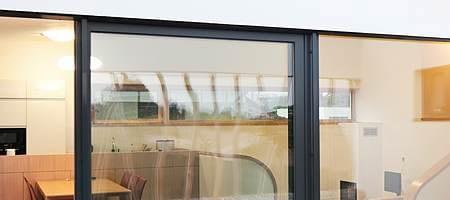 Should I have a light uPVC material for my patio doors, long-lasting aluminium, elegant wood-with-aluminium or is classic wood the right choice for me? This is a question that quickly arises as soon as one has decided to have a new patio door.
When choosing the material for patio doors a number of criteria must be observed
On the one hand personal taste and credo help decide, on the other hand on selecting the material for your patio door some criteria must be considered. For example, when fitting inside a protected building it could be that the local authorities insist that only wood may be used for your patio door. At the other extreme there is no sense in fitting a wooden door to a weather-prone facade which is not often used and difficult to reach. This means that the necessary maintenance intervals for repainting are not always met, leading to a faster aging and deterioration of that element. And, often the initial price of the patio door plays an important role.
"Patio doors are available with a number of different features"
---
Material and Colour – Form, Function and Types
Patio doors are available in wood, wooden-aluminium or uPVC. Whereas for the wood types and wood with aluminium doors nearly all RAL colours as well as twin-tone (different indoor + outdoor combination) are possible, uPVC patio doors are restricted to white and to the available decor foil colours.
A variety of profile forms and layouts enable for the optimum in style and taste and allow the appearance to be individually selected.
A variety of building forms and special types can be created
Depending on individual preference, planning, location in relation to building, or alignment a variety of building styles and special types can be implemented. The most modern production methods and manufacturing standards ensure almost unlimited flexibility to create the most original customer designs.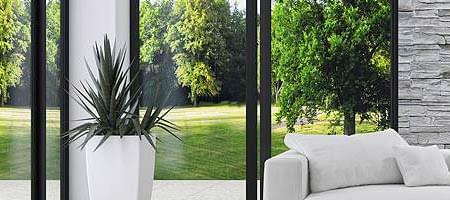 ---
Window or Patio Door
If one only considers patio doors in terms of their function and technical construction then, at first glance, there are a lot of similarities with those of a window. This is one of the reasons why patio doors are also thought of as being French windows or balcony window/doors.
However, if one looks at patio doors a little more the a number of details and characteristics will be noticed that differentate patio doors from a window.
The most important differing criteria is that patio doors are always fitted from the floor, at all times providing simple and easy access to the outside whether it be onto a balcony or into the garden via a patio area and, in the ideal case, also barrier free.
Additional supplementary constructions, e.g. locking clamps, door threshold sills of aluminium, door motor/ side door function, additional locking points for fittings and lockable handle systems make it possible to configure every patio door individually to sduit every purpose and adapted for every situation.
Windows, on the other hand, serve to air the room, provide light to the interior, enable one to look outside and are usually fitted approx. 90 cm high into the masonry. In some cases they may be fitted with a fanlight with glazing or panel.
---
Purchase patio doors online on windows24
---