1. Preparations
You should cover the working area with covering foil to avoid damage. When removing doors or windows, there is always a danger of soiling or damaging wooden floors, furniture or walls.
Whether you decided to install a uPVC, wooden or aluminium system: Never remove an old component before you have re-measured the dimensions. Re-measuring helps prevent complications with the fit-in procedure afterwards. A detailed manual on the correct measurement process can be found here (Fig. 1).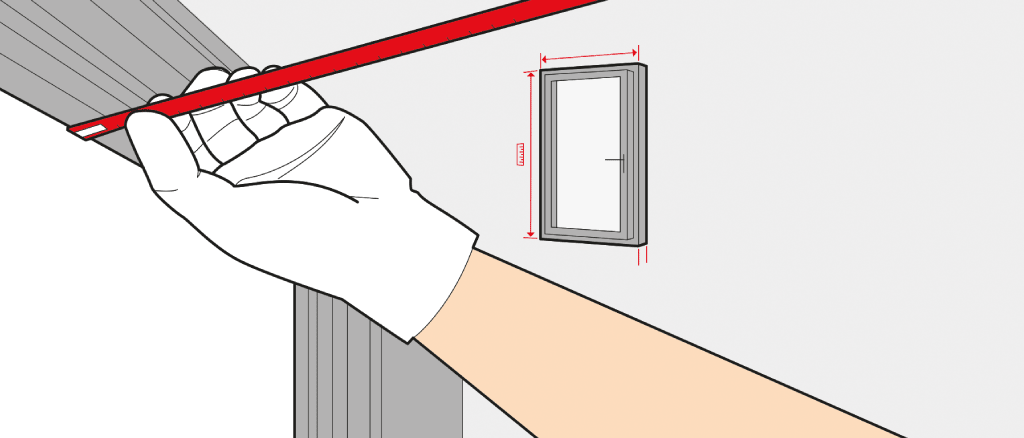 When removing a patio door, it can be very beneficial when someone helps. It is much easier and safer to lift-off the leaf together.
2. How to remove the Leaf of a Patio Door
Common doors consist of hinges, bearings, lock, leaf and doorframe. First you have to uncover the hinges to hang out the patio door. There are differences, depending on the respective age and opening mechanism of the door.
a) Removing the Leaf of an older Model
Follow the next steps, if your patio door has a tilt-mechanism.
Unlock the patio door and open it. Turn the handle to the tilt position.
Lift the door, until the hinge leaves the corner bearings (Fig. 2a).
The door should now only be connected to the stay arm, a metal rod which ensures that the system can stay in tilt position. You can now remove the stay arm (Fig. 2b).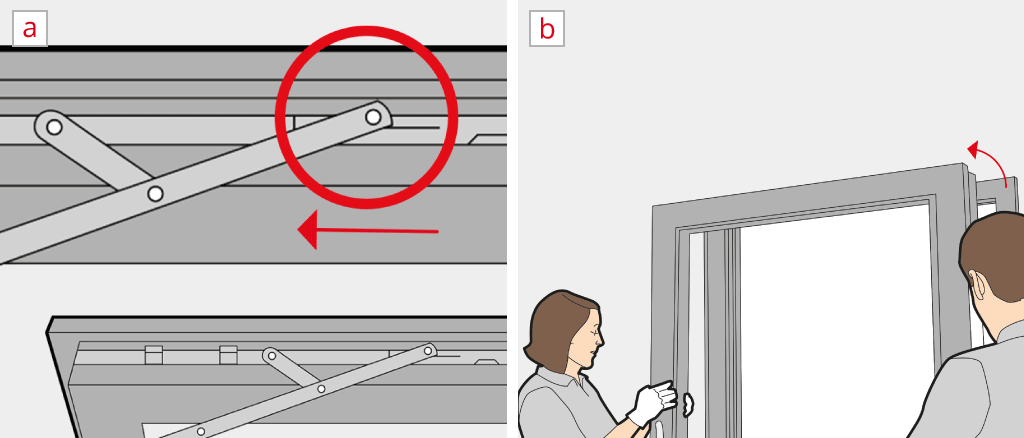 Some models do not have a tilt-mechanism. In this case, please continue to the next step.
Open the door and simply lift it off the hinges.
Hinges normally feature an oily layer to ensure their proper function. You should wear work gloves and work carefully to prevent furniture from soiling.
b) Removing the Leaf of an newer Model
It is significantly easier to remove modern doors – made of wood, uPVC or aluminium – here, pincers and a screwdriver will come in handy.
Unlock the patio door, if applicable, and open it.
Stay bearings are normally protected by plastic covers. Remove these covers with pincers or a screwdriver.
Remove the metal rod from the stay bearing by pulling it in a downward direction (Fig. 3).
The patio door is now only mounted with the corner bearing and can be easily lifted out.