2. Preparing the Sliding Door for Installation
Construction components are always covered with protection foil. Additional parts, such as handles, are usually not yet mounted. Follow the next steps to prepare your sliding door correctly (Fig. 2).
Remove the protection foil from the exterior part of the sliding door frame. This part of the foil is really difficult to remove after the installation. Adhesive residue can remain on the parts as well.
In order to open the window, it is important to mount the handle first. Please remove the foil from the respective parts and make sure that is remains on the other areas.
Now you need to lift off the sliding casement. Remove the screw (f) and the sealing (e).
Remove screw (d) and make sure that guide (b) remains in the sliding casement (a).
Tilt the sliding casement (a) including guide (b) and remove the entire element.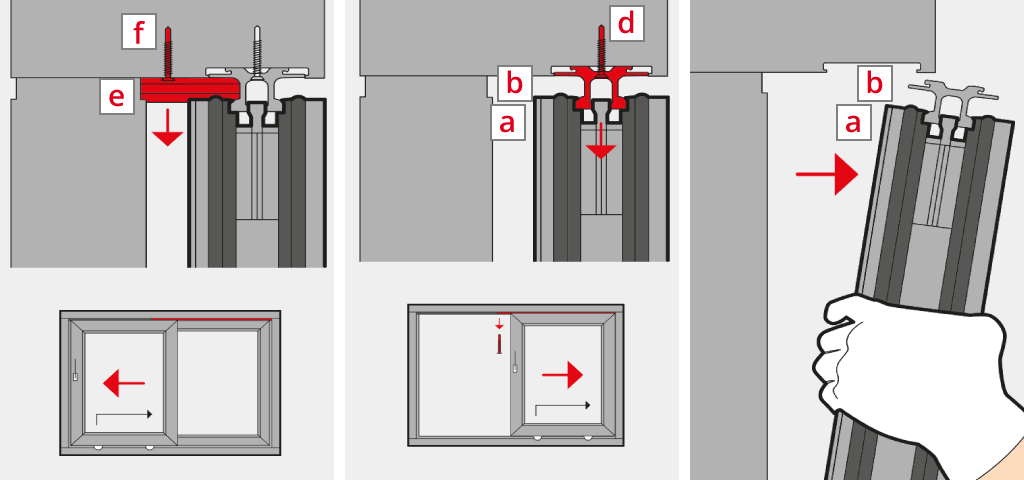 In certain circumstances it is also necessary to remove the fixed glazing. It is usually mounted with glass strips that you can remove easily. Please work carefully and pay attention to avoid damaging the glass.
Push a stable and thin spatula (there are special models for the work with glass) into the space between the glass strip and casement (Fig. 3). Carefully lever the spatula downwards. The glazing strip should now be protruding.
Move the spatula along the casement. The glazing can now be removed easily.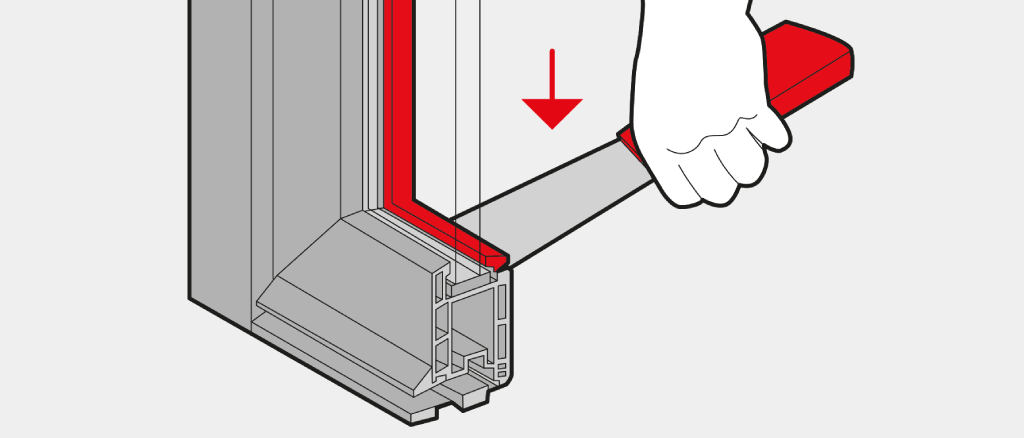 Please remember that the glazing strips have to be inserted in reverse order during a later step of the installation.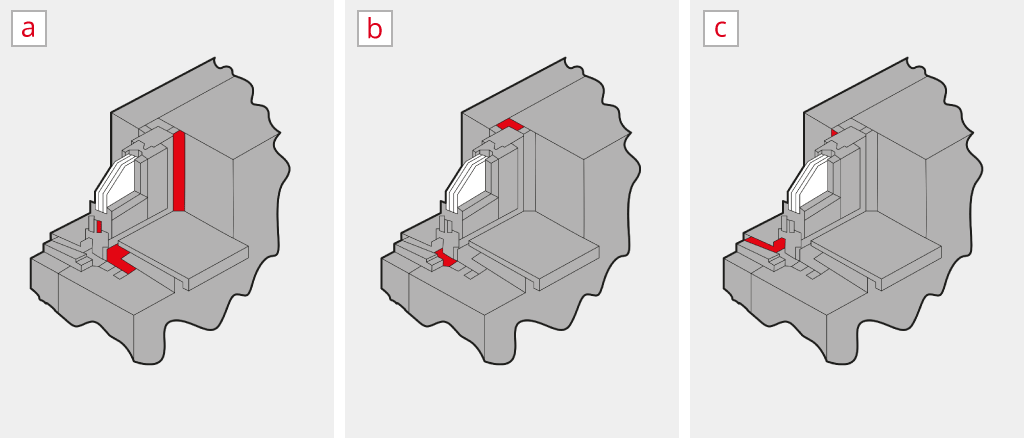 3. Choosing the Sealing Type
In the next step you have to decide, which type of seal you want to use during the installation. The seals are divided into three installation levels:
The inner seal separates the two temperatures – outside and room. It must be installed impervious to vapours. Vapour proof foil or filling the gaps with acrylic is recommended (Fig. 4a).
The middle seal is located between the doorframe and the wall. This gap should be completely filled with insulating polyurethane construction foam (Fig. 4b).
The outer seal serves as a constant weather protection. It must be rain proof and open to vapour diffusion at the same time. These properties can be achieved with the installation of pre-compressed sealing tape or foil that is open to vapour diffusion. The joints can alternatively be grouted with silicon (Fig. 4c).
Please note that carefully attached seals can prevent construction faults after the installation.
Always bear in mind: The installation must be sealed more tightly on the inside than outside.
All important materials for the installation and further accessories can be ordered from the windows24.com online shop.