2. How to remove an exterior Door Leaf
Exterior doors differ in terms of material, colour and locking mechanism, but most mechanical components are identical. Almost every exterior door has a frame, door leaf, a locking or profile cylinder, hinges and fittings. Before you can start to remove the frame, you have to lift off the leaf from the hinges in the first step.
Unlock the door and open it.
If necessary, remove the metal pins, attached to the hinges on the leaf (Fig. 2a).
The door is now only fixed at the upper and lower hinges. Please carefully lift off the leaf now (Fig. 2b).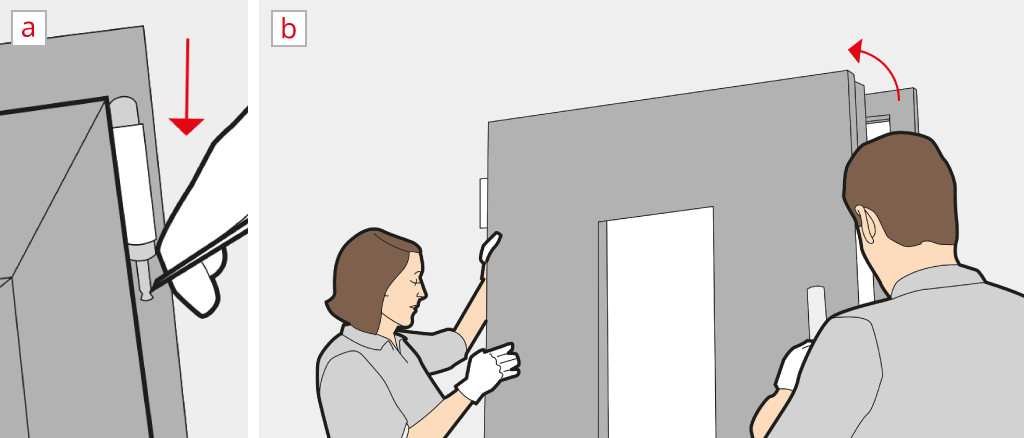 Hinges need to be oiled, to avoid unnecessary friction between the elements. This oil can soil walls, floors and furniture. Please be careful with the removal and later installation.
3. How to remove an exterior Doorframe
Exterior doors are subject to constant stress on a daily basis. This is why it is tightly installed to the masonry. These specific mountings need to be cut, before you can exchange the exterior door. In the next step you will need a hand-held milling machine or a rip saw – and later on a crow bar.
You have to cut the mountings with a hand-held milling machine or a rip saw. In some cases you can already see the anchors in the masonry and you will not have to cut along the frame blindly (Fig. 3a and Fig. 3b).
To assure that the frame can be removed smoothly with a crowbar, you will have to cut smaller pieces away. Always cut V-shapes. This way, the cut pieces will not wedge. Normally, it is enough to make six cuts, following a specific pattern: twice each on the left and right sides, once on the bottom and once more on the upper part of the frame (Fig. 3c).
In the next step you will insert the crowbar into the gaps between the masonry and the frame. If you cannot remove all pieces easily, you will have to use the hand-held milling machine or rip saw again in the respective areas (Fig. 3d).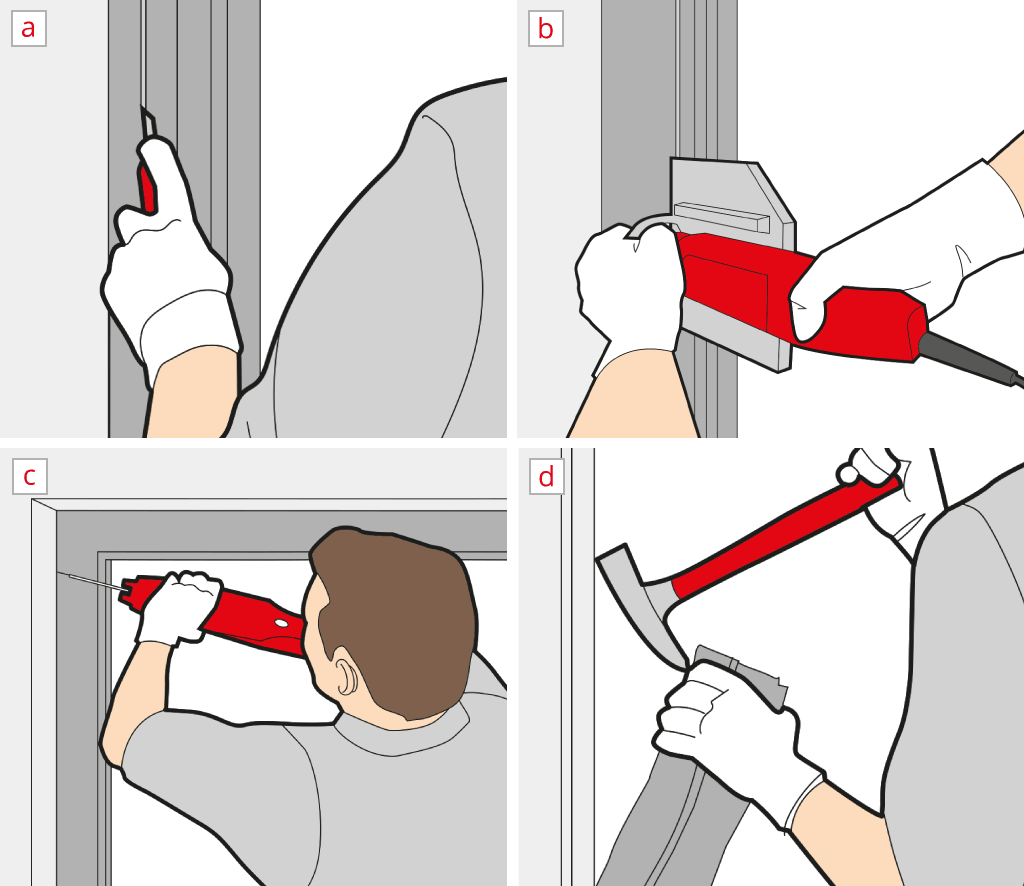 Do not remove exterior doors with light shoes. Falling parts are a major risk for injuries. Always use more durable shoes for this task.
If you follow this manual closely, you will not have to hire professionals for the removal process. All you need are: manual skills, a helping hand, the correct tools and this detailed manual.