High quality Aluclad wood Profile
High value system in recessed design
Available in pine, meranti, larch, oak and more
Extremely weatherproof and easy to maintain

Please consider our VOLUME DISCOUNT

-35%
online price advantage
10 Year guarantee
RAL Seal of approval for the aluminum cladding
High quality hydroplaned wood surfaces and special color options
Grade 1a wood
Made in Germany
High quality components from well-known manufacturers
---
Customer feedback on Windows24.com

My order was delivered on time and exceeded my expectations!

I'll definitely be purchasing more windows from you in the future!
Profile Description
Glazing: choose between double or triple glazing.
Glazing gasket: The glazing gasket provides optimum protection against water penetration.
Casement style: Modern recessed design.
Laminated wooden panels: Glued wood edge bands with continuous laminated top layer provide stability and durability.
Sealing levels: Three sealing levels ensure both good heat and noise insulation.
IDEALU Classicline Aluminum Clad Wood Windows - Description
GLAZING
Insulating glass can be combined with sun protection, sound reduction glazing (to class 4) as well as anti-burglar and ornamental glass options
UV-resistant seals
Wet glazing
SURFACES
Surface treatment increases durability and window life
Natural wood finishes and RAL paint colors available
FUNCTIONS
Custom feature combinations for insulation, noise reduction, security, opening method and location.
PHYSICAL REQUIREMENTS
Thermal insulation per DIN 4108 and EnEV standards
Sound insulation from levels II to V (per VDI 2719 SSK, SSK)
Anti-burglar level options up to Resistance Class 2 (DIN V ENV 1627-1630)
Wood windows with an RSG 10-year guarantee are only coated with products which conform to all European requirements.
Idealu Classicline - Advantages in Detail
10 Year Guarantee
The excellent quality of our aluminum clad wood windows means that we offer a 10 year guarantee on the exterior aluminum shell and a 5 year guarantee on the wood surfaces of all our models.
This window is perfectly suitable for all houses built in a modern architectural style as the sash and frame are flush on the outside. We want you to enjoy your house and your matching windows for many years to come.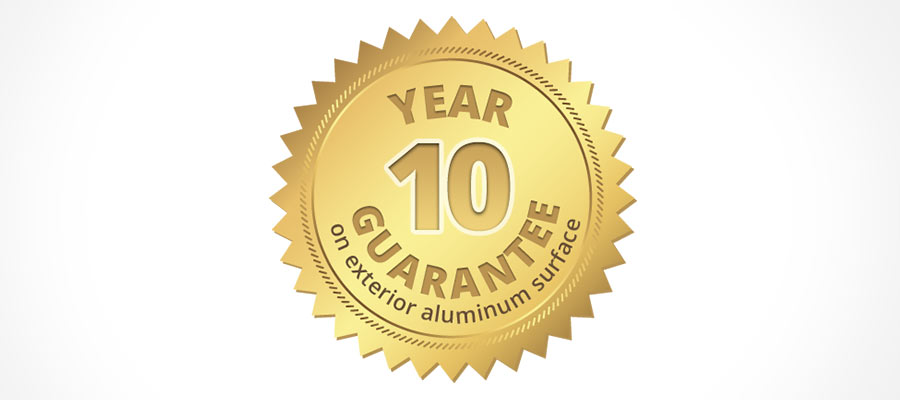 Idealu Classic Line / Eco Idealu Classic Line
The RAL-approved aluminum casing means that you can expect the highest quality. This is regularly monitored and tested by independent third parties. So you as the consumer or end-user can rest assured that the windows and doors you receive are long-lasting and of excellent quality.
By using welded corner units, the corners will not warp, even under heavy strain. This gives it an attractive look while being water tight at the same time. Aluminum as a working material is very weather resistant and can be supplied in virtually any RAL color. That gives you an extremely wide color selection and maintenance-free product.
High quality hydroplaned surfaces and special interior color options
This new and innovative method of machine planing means that the wood surfaces are especially smooth and high quality. The wood fibers on the top surface are not only cut off but pressed flat leaving the pores open.
The primer thereby penetrates deeply and permanently into the wood and protects it. This means an an attractive and high quality window for a long time to come.
Grade 1a Wood
In order to manufacture wood windows, it is necessary to have high quality wood without knots, coloring or excessive resin. While the main reason is usually cosmetic, these properties can also negatively affect the stability, durability and functionality of the wood.
All wood profiles are manufactured in continuous glued laminated layers. No jointed wood is used in the production of our windows. This guarantees warp-free frames with clean, smooth, rigid joints.
Quality Made in Germany
All of our windows and doors are manufactured in Germany. We are members of the German Association of Window and Façade Manufactures. Being based in Germany is not just due to high quality craftsmanship and manufacturing, but also important for economic reasons.
Our customers receive the best possible quality at an excellent price-performance ratio.
High Quality components from well-known manufacturers
We use only the highest quality components from well-known manufacturers into our windows and doors. This is another way of guaranteeing only the best quality.
Handles made by Hoppe, glazing supplied by Fandel and fittings from Siegenia Aubi and Winkhaus are just a few of the high quality components we use. To ensure you get the longest possible life out of your new windows and doors and are completely satisfied with your purchases, we focus on offering only the best products, Made in Germany
IDEALU Classicline Aluminum Clad Wood Windows
IDEALU Classicline windows are available in pine, meranti, larch and oak and are extremely weatherproof.
Image
System
Model
Window Type
Width
Height

Idealu Classicline 68 and 78

Idealu Classicline

Aluminum Clad Windows

from

50

cm
from

50

cm
Logo
Brand
Availability
Condition
Colour
Price
in stock

New

White, mahagony, teak,
chestnut, walnut, RAL colors
---
Purchase modern composite windows the easy way
---