Turning and Tilting
If, as well as turning, the door also tilts then the door cannot only be opened on rotation but the door can also be set into a tilted position. These doors are typically referred to as either turn – tilt – right or as turn – tilt – left doors.
Selection of the actual function, i.e. turn or tilt is carried by the door handle which has different functions set at 90 degree steps of turning the handle: handle vertically down = door closed, horizontal = turn function / door open, vertically up = tilt function / door tilted.
Free View without Mullion
Double sash constructions for patio and balcony doors are available whereby the version flying mullion is very popular. The flying mullion is a mullion or central post which opens with the door as the profile or closing strip is fitted into the window or the door sash.
This type of opening does away with the central mullion, which greatly enlarges the amount of space between the two door sash units making the room itself seem so much bigger.
This way you have a much better uninterrupted view to the outside surroundings and large and difficult to move furniture can easily be brought into or taken out of the room.
Open the Active Leaf first ...
The active leaf is opened first and is operated by turning the patio or balcony door handle, whereby it is usually possible to also use the tilt function on this element.


... then the Inactive Leaf
The inactive leaf or flying mullion is that part of the door which cannot be tilted and is opened using a door edge lever and is opened second.
Sliding Doors as Special Method of Opening
An increasingly popular method of opening patio and balcony doors, allowing large spacious openings, is the sliding door unit, for example, the door with lift-and-slide function or that with parallel-slide-tilt function.
We have summarised a large amount of information on sliding doors on our special section dedicated to this kind of door.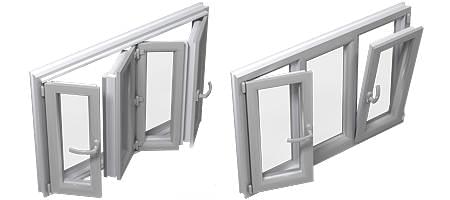 Barrier-Free Patio Doors without Threshold
Many people are in the situation that their home and living space must be barrier-free due to physical handicaps or the building specifications in their area demand it.
This means that all living areas – and obviously all entrances and exits – must be accessible to all residents and visitors whether they are handicapped or not.
Fortunately, many barrier-free features are already standard today and even patio and balcony doors can be designed to be barrier-free. The patio door or the balcony door can be fitted with a flush-floor exit using a threshold strip which is absolutely flush with the ground.
Hence, a stumbling block that is often a trip hazard can be eliminated.