Fly screens

Insects, naturally, are extremely important for our environment as well as for one's own garden. However, during the warmer months flies, mosquitoes and wasps often become irritating when the fly around one's kitchen or living room. A good fly screen is especially useful during this season to protect doors and windows from these little intruders. Screens come in all shapes, colours and sizes. Nevertheless, there are some things to take into account when choosing your screen. Regardless of whether you have a window, skylight, door, patio door or light shaft for a cellar – the suitable system to provide you with effective insect protection is certainly available. Not only should the colour harmonise with the house, but a robust material and expert fitting are absolute musts.
Window fly screens
Our fly screens combine modern technology with excellent material properties. They stand for best possible energy efficiency, are easy to clean, are extremely durable and long-lasting a are virtually 100% recyclable.
Door fly screens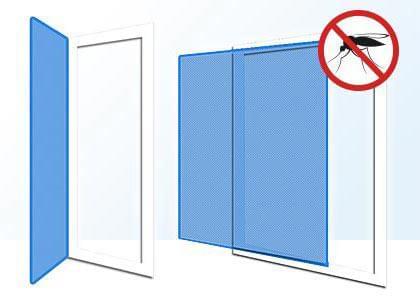 Our fly screens combine modern technology with excellent material properties. They represent today's best possible energy efficiency, are easy to clean, are extremely durable and long-lasting and are virtually 100% recyclable.
Fly screens – appropriate systems for optimum protection
A wide variety of types of fly screen are available in order to effectively protect you and your family from wasps, mosquitoes and other insects. For every problem we have the appropriate solution. To provide optimum protection against flies and other irritating insects, every potential point of attack should be protected using a fly screen:
Doors
Patio doors
Windows
Skylights
Basement light shafts
For windows and roof skylights there are two different types of fly screen available to choose from to provide effective protection. Firstly, fly screens which can be opened similar to a roller blind and secondly, fixed fly screens such as a frame with the fly screen stretched across it. Reliable protection against insects is ensured using both types and these are available in the conventional colours anthracite, brown, black and white. An insect protector net which is fixed in position is frequently cheaper to install. However, it can be that the window sash is somewhat more complicated and awkward to open. A roller blind fly screen has the great advantage that the particular window can be opened and closed much more easily. This type of fly screen as roller blind is far more practical for a kitchen window, for example, as food can quickly and easily be taken out onto the balcony or into the garden.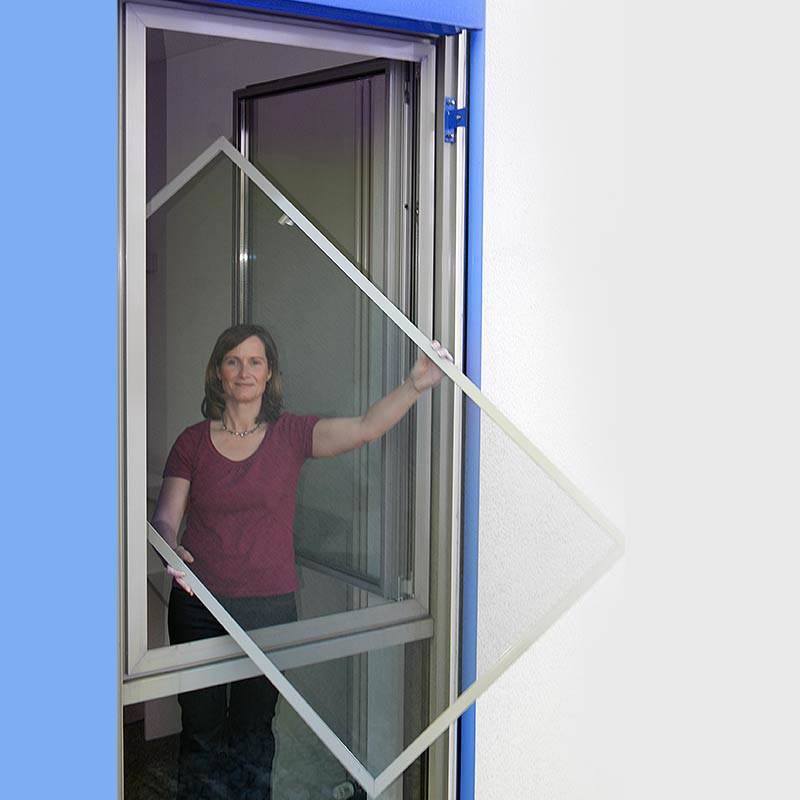 A roller blind to provide insect protection is a convenient and practical investment and will reliably keep bugs out of the kitchen. These blinds are usually manufactured in aluminium or uPVC and the conventional colours are brown, white, black and anthracite.
Made-to-measure fly screens for windows and doors
The simplest way to protect one's kitchen from flies and other pests is to employ the lamella style door. This comprises a series of vertically hanging lamella of special fly screen netting, these overlap partially and fall so that they form a lamella curtain. As this fly screen is exactly like a curtain the doorway can easily be used without any inconvenient opening and closing of the door itself. As this fly screen cannot be held rigidly in place there is always the danger that the odd insect will manage to get in through patio or back door.
Door models offering efficient protection
A popular system to safeguard one's house and home from flies and other insects is the fly-screen door. This model of door opens and closes exactly like a normal standard door but consists of a tensioning frame fitted with a fly screen net material.
A similar model, i.e. a tensioning frame fitted with a fly screen net material, is the sliding screen door. This can be slid to the side for opening and closing very conveniently. Another, somewhat more expensive, method to prevent flies and other creepy crawlies from invading the kitchen or living room is the fly screen as pleated blind.
In contrast to the roller blind, where the fly screen rolls up out of the way when not in use, the pleated blind functions more like a concertina. The screen itself which keeps the insects and other bugs at bay is folded and stowed away within the door frame to the right and left, but is connected to the bottom and top of the door by a rail system.
When not in use the screen section can simply be slid to the side and disappears within the door frame.
Just like the fly screens used for windows and skylights the fly screens for doors are available in all the conventional colours such as anthracite, brown, black and white. The commonly chosen designs including aluminium, stainless steel, wood and uPVC are found virtually everywhere.
The cellar light shaft must also be protected
Light well coverings ensure that no insects or rodents are able to get into the cellar / basement light shaft. The added advantage here is extra protection against dirt in the light well. This means that a good light shaft cover not only serves to protect the cellar and basement rooms from small intruders but also reduces costs for cleaning. Depending on the actual model light shaft covers can be selected which also protect from splashing or even from strong and intense rainfall. These are usually constructed using a stainless steel or aluminium mesh, as these are especially robust, long-lasting and slip resistant.
The strength of the mesh will largely depend on the expected loads to be borne by the grille, i.e. what kinds of exposure the cover mesh of stainless steel or aluminium will be subject to. That means, whether the cover will only be expected to carry small loads or whether the cover is part of an area which will subject to vehicles, e.g. a driveway. Those who love to spend time in their garden but still require protection against insects can always fall back on a mosquito net. The advantage of the mosquito net is that it is extremely flexible and versatile.
Regardless of whether you choose to have a mosquito net over your bed as an additional protection against flies, as a cover over a pram or baby carriage or perhaps as a n extra safety measure in your summer house: annoying little insects such a flies and wasps will be kept successfully at bay by the fine netting.
Fly screen with no drilling?
For those considering purchasing a fly screen a frequent question is: Who installs such a screen or can I mount it myself? Whether for a window, skylight, front door or patio door, whether it is to be fitted in aluminium, wood or uPVC systems – professional fitting is paramount.
It is vital to measure the exact dimensions, height and width, carefully before ordering. For doors and window models in standard sizes there are fly screens already available with just the right dimensions.
However, where a screen is required to fit an unconventional size or shape of window, e.g. rounded or with an unusual angle, then this must be made to measure. Just as there is a great variety in types of fly screen to ward off unwanted creepy crawlies, so too is the variety of fitting systems. The best, but also the most expensive option, is to let a professional do all the work for you including planning and fitting. This is certainly worthwhile when long-lasting and expensive high quality insect repelling measures are being considered such as the sliding door with insect screen, or the purchase of high quality pleated blinds are required.
Classic fitting
In principle there are two main ways to fit a screen designed to ward off insects and other pests.
The classic fitting involves installing a fly screen for a window or a door using the usual variety of DIY tools – one is forced to drill some holes. In the case of DIY then a certain measure of handworker skill is required plus having the appropriate tools at hand but with the risk that unprofessional handling of the parts may lead to damage to the und window skylight, or to the front or patio door.
Especially when installing the high quality insect repellant revolving door, sliding doors or pleated blinds then some tools are always necessary.
Even when fitting where no drilling is required then certain tools such as tape measure, spirit level, cutter, saw and screwdriver should be close at hand.
Modern installation
The simplest method of fitting an insect fly screen is to use a self-adhesive tape system. First of all the surfaces of the frames to the windows and doors and that of the fly screen must be cleaned thoroughly. Then the adhesive tape is applied to the edges of the door or window frame, tape is applied to the fly screen and then the screen is placed in position on the window or door frame.
It is important to work carefully and thoroughly while doing this, as insects are able to intrude into living rooms through the smallest of gaps. Additionally it is important to be sure to press the fly screen against the frame at regular intervals once it is actually in position.
The lamella style door also uses adhesive tape: the individual bands (lamella) comprising the fly screen netting are positioned to overlap each other to a fixture before being secured to the upper frame of the door with adhesive tape. Once finished, the door curtain with adhesive tape applied to the reverse side is pressed into the door frame. Insect roller blinds can also be fitted using an adhesive technique. After thorough cleaning of the frame, guide rails and the cassette for the fly screen roller blind are stuck to the window frame.
And when it comes to removing the traces of adhesive then these can be removed using just salad oil or a standard hand disinfection agent. More effective, but also more aggressive, are thinners and paint removers. Especially when dealing with uPVC windows one should be very careful. Special cleaning agents from your local DIY store are expensive, but often the most effective.
Fly screens for windows and skylights can be fitted oneself, especially those with a frame construction. Once again, it is vitally important to take the precise measurements of both height and width of window or skylight. First the fly screen struts must be cut to the correct size to be fitted into the frame. This must be done with a good saw when dealing with wood or aluminium.
The pieces, cut to the exact measurements, are then mounted using wedge-shaped locking pieces, having a similar function as a dowel, and secured together. The mesh that keeps the flies and insects away is then placed and fixed into the frame. The completed frame construction with the fly screen meshing can then easily be mounted into the frame of the window using suspending springs which are included as accessories.
Which material is the right one?
Regardless of whether you opt for insect protector roller blinds or choose a fly screen for your window, skylight or door: besides first-class fitting the choice of material is crucial. The fly screen should not only be effective at keeping creepy crawlies and mosquitoes out, the fly screen mesh must be durable and robust. As fly screens come in different types and methods there are various materials to choose from:
Stainless steel fly screens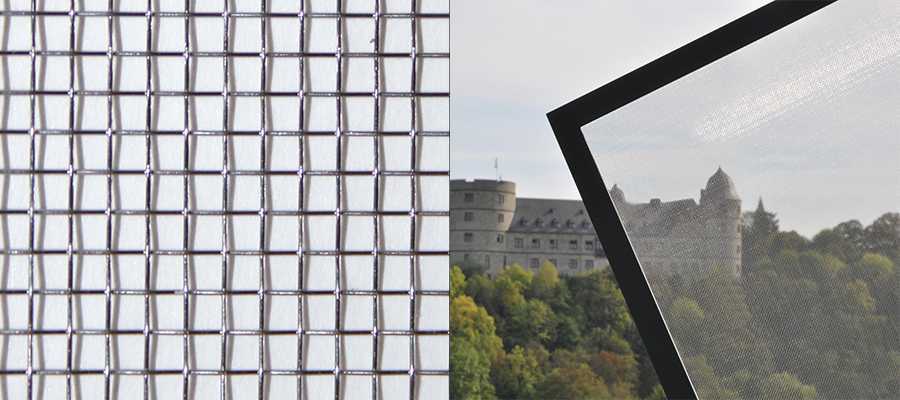 The fly screen of stainless is more than simply protection against flies, wasps and Co. Thanks to the robust and long lasting material this screen is not just suitable to combat insects but also presents a barrier against rodents, as well as protecting against falling leaves and small branches.
Fibre glass fly screens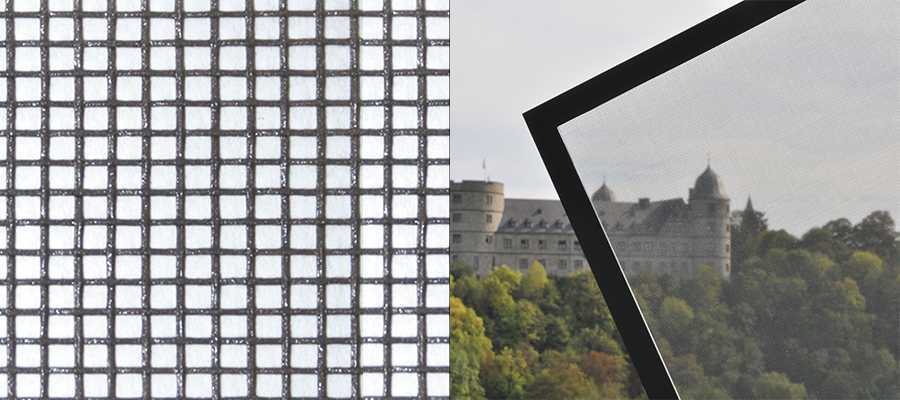 Fibre glass is a highly suitable mesh to guard against insects. The robust and versatile mesh of PVC and glass fibre impresses due to its tear resistant qualities as well as its weatherproof properties.
| Mesh material | Comments | Suitability |
| --- | --- | --- |
| Aluminium mesh | robust, long-lasting, anti-slip | Light well covers |
| Stainless steel mesh | very robust, long-lasting, anti-slip | Light well covers |
| Pet screen mesh | robust, kratzfest | Doors |
| Transparent mesh | highly transparent | Windows, skylights, doors |
| Anti-pollen mesh | blocks up to 90 % of pollen | Windows, skylights, doors |
| Fibre glass mesh | standard mesh | Windows, skylights, doors |
A mesh screen of aluminium or stainless steel has a very refined and elegant appearance created by the metallic anthracite or aluminium look – although other colours such as black, brown or white are also available. Transparent mesh, pet screen mesh, anti-pollen mesh and fibre glass meshes can be coloured as desired, perhaps in brown, black, white or anthracite for example, and thus can be made to match any window, skylight, front door or patio door.
Fly screen meshes for doors and windows typically have a size of 1.4 mm by 1.58 mm (height by width). This size of web mesh has been found to provide optimum protection against insects while in no way restricting the amount of light admitted or the circulation of air. A closed fly screen does not prevent good room airing.
In order that the selected fly screen in no way causes problems for the environment one should check that the manufacturer makes no use of any dangerous substances, such as heavy metals. A safe indication in this respect is the presence of an environmental seal of approval, e.g. the Blue Angel Label.
---