illbruck PU-gun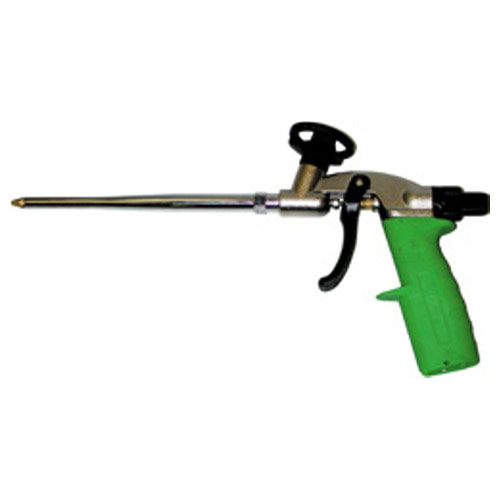 €64.90
Incl. 19% VAT, delivery in 5-10 days
Metal gun with ergonomically shaped uPVC grip handle.
The Illbruck PU metal gun foam pistol makes professional finishes possible.
Use options:
illbruck window foam
illbruck fire protection foam
illbruck 1K-foam gun
illbruck 1K-gun foam XXL
Sealing like professionals
With a foam gun from windows24.com sealing doors and windows gets very simple! You can close cavities on roofs and walls in just a few steps and thus preserve energy efficiency. A foam gun is a very useful tool for the construction of new buildings, renovation or just for minor works. Longlasting and made of best quality, it precisely distributes the expanding foam in small proportions. You will not only benefit from better indoor climate and energy efficiency, it also makes insects and vermin stay away.
Structure and fonction
High material and handling quality
Made from high-class uPVC and metal and disposing an ergonomic handle, this foam gun is very easy to handle. Built with foam pipe, inductor and foaming agent container, the foaming agent concentrate is located in a secured socket. By pumping and pressing, you can regulate the emission of foam volume, thus being able to apply it very precisely on the necessary spots. Thanks to an effective closing mechanism of the foam container, the concentrate doesn'nt dry so it can be stored until the next application. Furthermore, this gun is very eay to clean thanks to its high-grade material.
Metal foam gun
Note: If you really want high-quality tools, aluminium makes the best choice of material although it costs a bit more than a uPVC product. But it also lasts longer.
Advantages of windows24.com foam gun
Sturdy trigger
easy to clean;
longlasting
Large adjusting screw for easy dosage
long gun pipe for precise application
gun foam
The foam consists of polyurethane (PU foam) which is available in different versions depending on its targeted use: Fire protection insulating, noise or heat insulating each require specific foam types which differ in their chemical composition.
Cleaning
To avoid drying and sticking of foam residues, please clean your foam gun immediately after use. As the sealant deposits in the socket while pumping, it closes quickly and cannot be freed from residues later. Wearing protecting gloves and using a foam gun cleansing agent will make cleaning much easier: First, remove the foam sockeet and apply the agent. It will dissolve foam residues instantly. Then, let in the agent flow in by the attached spray head and wait until the remaining foam flattens. Remove the attachment after cleaning and continue pressing and pumping until the agent comes out clear. Finally wipe your foam gun with a cloth to store it and make it ready for the next use.