illbruck EPDM-film 25 metres outside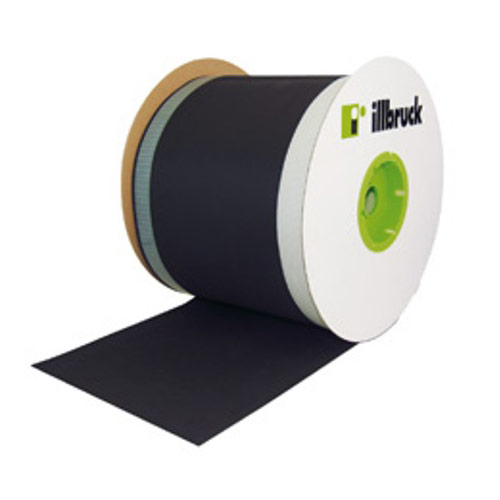 €129.90
Incl. 19% VAT, delivery in 5-10 days
EPDM-rubber damp proof sheet without butyl and self bonding. It is of use for external sealing of lower conncection parts of doors and bottom-down windows in the perimetry area according to DIN 18 195 and equals DIN 7864-T1 chart 1.
Product advantages:
extremely weatherproof, high temperature resistance
high elasticity
Thickness: 1,2mm
Width: 250mm
Roll length: 25 metres
EPDM-film for professional seal at cheap price
Use: on roofs, patios or facades. The EPDM foil is highly UV- and temperature-resistant, weatherproof, made of high-quality environment-friendly material, durable and available at low prices, thus being perfect for exterior surfaces of residential buildings.
longlasting, flexible, sustainable
Of great use
EPDM stands for ethylene-propylene-diene-monomer. This synthetic rubber is not only very resistant as unlike natural materials, it is also able to change its chemical characteristics: The polymere can expand and resist heat or intense cold as well as wet.
It lasts thrice the time of a uPVC film, over 50 years, as the Southern German Plastic Centre (Süddeutsches Kunststoff-Zentrum - SKZ) has proven few years ago.



Usability of EPDM films
The best material in industry and building construction;
Patios, terraces and balconies need to be protected against effects of the wheather and against wet, making professional sealing necessary. To seal construction elements, professionals use an EPDM rubber damp proof sheet being of an average thickness of 1-1,5mm, as well as a special protective mat to avoid mechanical damage (like cracks and rifts from nails, shards etc.). As this caoutchouc is resistant against softeners, polystyrene uPVC and other plastics, chemical interaction between these materials is avoided. Still, its compability with other plastics like expanded polystyrene (EPS) enables you to seal roofs without fleece in between the levels and without open flames. Easy bonding mechanisms make the mounting easy and a flawless result.




Suits different application types
You can choose out of a large range of products.
In the construction of flat roofs, facades and patios, this DIN EN 13956-tested rubber material has been indispensable since the 1960s. windows24.com offers EPDM foils in different versions to be loosely laid, bonded by contact adhesive or fixed mechanically. Some of nowadays' most popular methods are seam tapes (with slice tapes), vulcanization and hot air-welding. Splice tapes are usually 7 cm long and connect the EPDM- foil bands in an overlapping position which prevents incorrect measurement. The second method, vulcanization,compresses the foil parts by pressure, temperature and time so that there are no more layers left, but only one continuous, hermetical, airtight and weatherproof surface. The last and youngest method has been used for the last 3 decades. It merges the seams by hot air and adds PE welding edges on both sides of the bands. If you wish to buy and to use this very professional product, you will find different versions on this site. Don't hesitate to ask your questions on telephone consultation or per e-mail.