1. Preparation
In order to ensure a smooth measuring, it is important to have all the necessary accessories within reach. All tools and materials should be in place for the later installation. It is not obligatory to have a helping hand, because the work can easily be performed alone.
If the system is mounted outside, you should set the focus on security. Do not climb out of the window to measure.
2. Taking the Measurements for the Window Roller Shutter
You will need to check the height and width of the curtain, in order to measure the correct dimensions.
If the element is mounted outside, you need to open the window first. You will then reach both sides of the guiding rails and then you can easily measure from the inside.
Errors in the measurements can lead to malfunctions of the aluminium or uPVC roller shutter curtain. In order to ensure that everything glides smoothly within the guiding rails, it is suggested to use a bubble level.
a) Measuring the Height
First use the tape measure to determine the distance between windowsill and blinds.
Add 10 cm to this distance. This ensures that the window shutter curtain can later be unrolled and pressed into the frame. This will improve the stability and functionality.
b) How to measure the Width
Measure the horizontal distance between the guiding rails. Determine the distance from the bottom of the rail so the blinds can easily be inserted into the guiding rails later (Fig. 1).
In the last step you must deduct 1.6 cm from the calculated measurement. This will ensure that the system will later run smoothly into the guiding rails.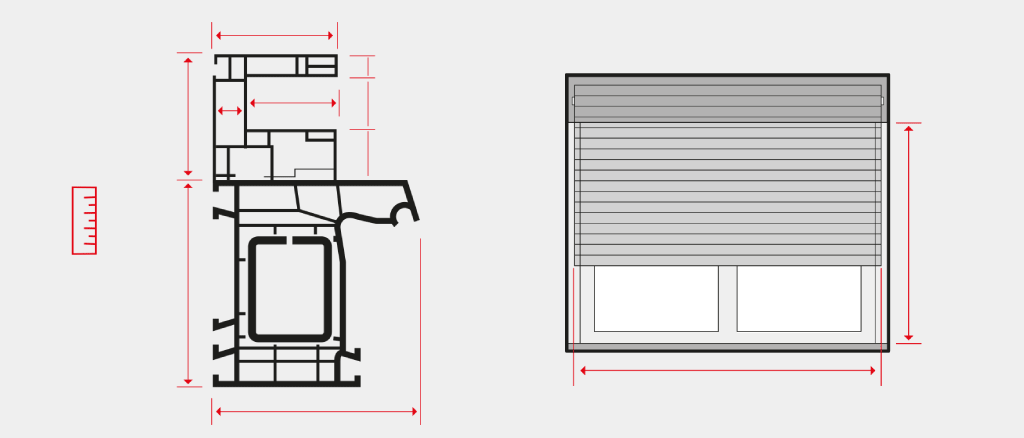 If you want modern uPVC or aluminium blinds, you do not need to buy an entire system. They can often be exchanged at any time with modern mounted systems. This function allows everyone to aesthetically upgrade the house facade and to repair the shutters function. You can also renew or exchange shutters with almost every door system and any given installation depth, by mounting a window roller shutter curtain with a new sealing.
Anyone deciding to completely modernise roller shutters by adding an electric function. It is often possible to install tube motors, enabling an automatic opening and closing with a timer or remote at certain times. Before removing and installing the new one, you need to take the measurements for the roller shutter. This step-by-step manual will allow you to perform this work yourself. Professional fitters are not needed.