Ornamental and structured glass for front doors

Structured glass is often referred to as ornamental glass and serves to provide additional privacy. All front door panels finished with ornamental glass are arranged so that the structured side of the glass is actually inside the gap between the panes. This makes cleaning and taking care of your glass so much easier.

Clear glass

Chinchilla

Mastercarre

Ornament 504

Satinato
Laminated safety glass
Our 70 mm wooden front doors are all fitted with double-glazed thermal insulation glass as standard and our 80 mm models come with triple insulation glass as standard.
Increased protection against attempted break-in can be provided by using additional laminated safety glass on he outside.
Laminated safety glass is a combination of two float glass panes, which are stuck together using a foil. This means that by using the foil layer laminated safety glass will not break into small pieces. Breaking the glass by hitting it is considerably more difficult with laminated safety glass.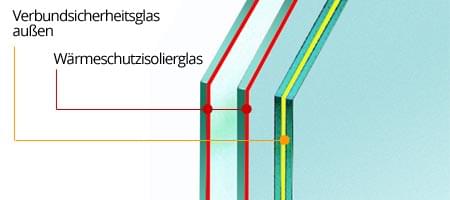 ---