French doors are often very massive elements. Two additional helping hands are therefore as important as the necessary materials and tools. Working in a group of two is especially helpful when you need to remove the heavy casement of your French doors.
1. Preparation
As the removal procedure for windows, you will have to use heavy equipment to remove patio or French doors. You should therefore cover the floor and furniture with protective foil, in order to prevent damage from stone fragments. Before you remove the old components it is very important to re-measure the reveal and compare it to the dimensions of your new aluminium, wooden or uPVC doors. After making sure that the measurements match, you can start with the next steps (Fig. 1):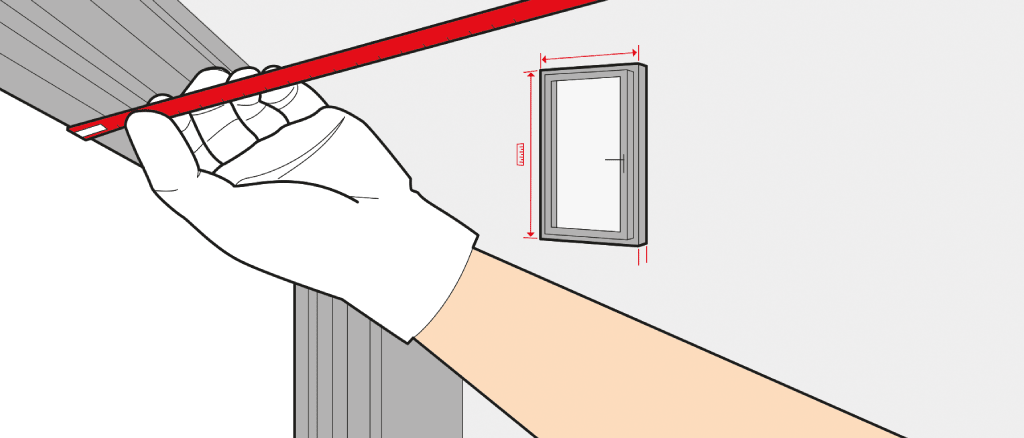 You need help to determine the correct measurements of French doors? You can find the details here.
2. How to remove the Casement
French doors basically consist of hinges, a locking mechanism, stay arm, casement and profile. The first step is to lift off the casement from the hinges. Depending on the age of individual construction components, the procedure may differ. In particular, knowing whether the system features a tilt-and-turn mechanism or not is very important.
a) How to remove from older French Doors
If the French door has a tilt-mechanism, please follow these steps:
Unlock and open it, moving the handle into its tilt position afterwards (Fig. 2a).
Now you can lift up the casement until you can remove it from the corner bearings (Fig. 2b).
Take off the stay arm. The stay arm is the metal rod holding the system in tilt position.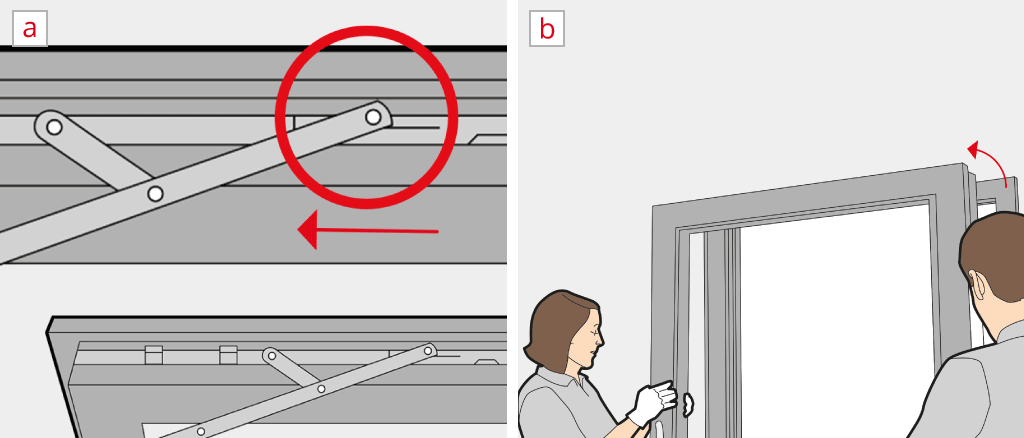 If the French door cannot be tilted, please consider the next step:
Open the casement and lift it up until it can be removed from the hinges.
Hinges are usually covered with oily substances. Please consider using gloves to prevent clothes, walls and floors from soiling.
b) How to remove from newer French Doors
The removal of modern wooden, aluminium or uPVC doors is usually less complicated in comparison to older systems. But you will need pincers and a screwdriver.
First you need to unlock and open the door – no matter if with or without tilt mechanism.
Use pincers to remove the plastic cover that protects the stay bearing at the upper hinge.
Once the plastic cover is removed, please pull the respective pin out downwards from the stay bearing (Fig. 3).
Now you can lift off the entire casement from the corner bearing.