To hide the joint between the window and masonry
Made of wood or plastic
In many colors and decor styles
Customizable design
Please consider our VOLUME DISCOUNT

-35%
online price advantage
Window Casing & Trim Materials
At windows24.com, we offer a range window casing and trim to match all of our window profiles.
Wood Casing
All of our wood casing is produced using knotless wood (i.e.. not from branch material) of class 1 timber and are available in a range of species and finished to match all of our windows.
The edges are milled to a radius of 1-3 mm. This ensures the edges are properly painted. Casing is available in pine and Meranti. The dotted lines represent the painted surfaces.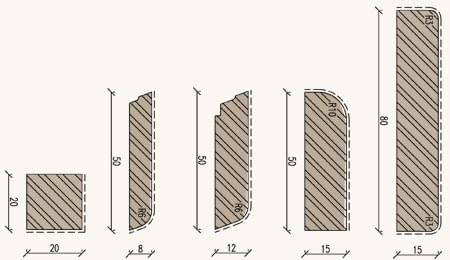 Vinyl Casing
Our vinyl window casing and trim is produced from 2.5mm thick rigid PVC flat strips. The properties of the surfaces and colors correspond exactly to those of the profiles.
The trim can easily be installed using PVC glue or self-adhesive tape.
The following sizes are available: 30mm, 40mm, 50mm, 70mm, 80mm.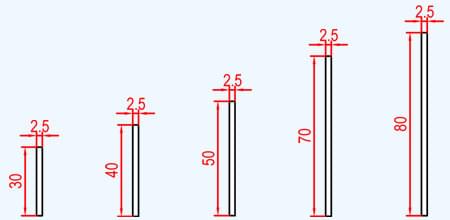 Colors for Window Casing
We offer a range of window casing and trim in different materials and sizes to match the exact window or door profile you've chosen. For ease of selection and to ensure a perfect match, all colors and decors have a unique number as part of the RAL color range.
Vinyl casing is available not just in standard white, but a variety of other colors and designs. This is achieved via the application of special foils, applied directly at the factory. This includes standard RAL colors as well as woodgrain options that can mimic the look of many different wood types.
---
---
White Wooden Casing
Wooden casing is made of pine, meranti, spruce, eucalyptus, oak or larch wood. Following the color conception of the window or patio door, we recommend to match the design by choosing a trim color accordingly to the joinery. Of course, many of us like to have a classical white color tone which goes with everything – this is why you will find it here, too. They fit white wooden windows as well as vinyl frames. Vinyl frames always come in white, but you can choose decors, as seen above.
---
---
Colors for Pine Wood Casing
Casing and trim made of pine wood are not only available in white or in an original natural pine tint; they also can have other shades like a light wood hue. Other very interesting colours from the palette are melon, walnut or precious mahogany wood. Resistant and weatherproof casing varnishes nd colours do not only round off the whole window or patio door construction, they also protect the joinery, the walls and the casing function itself from damage and humidity, making all of them long-lasting.
---
---
Colors for Meranti Wood Casing
You will also find colors for window casing made of meranti wood. The elegant and sophisticated timber tints mahogany and teak emit an exquisite atmosphere and flair, but the colors "Light Oak" and the classical "Chestnut" are quite as popular. If you prefer darker tones, you can always have a walnut varnish, of course. It doesn't matter if your windows are made of wood, of vinyl or aluclad windows, on windows24.com, we offer matching casing for all your windows and doors!
---
---
Colors for Oak Wood Casing
Classical oak is equally popular for windows and casing as the timber species seen above. It shows a very strong individual wood grain and has a very typical distinctive inherent color, so that we recommend and offer two natural shades which will embellish its natural aspect, "Light Oak Wood 325" and "Oak 600". The third color is classical white, which goes for almost every interior design. Depending on your window color, you will be able to select the perfect tint.
---
---
Larch Wood Varnishes
---
---
Colours for Spruce Wood Casing
Spruce wood casing can be painted and varnished with the tints "Natural spruce" or "Light Spruce". As wood is a natural material, the products can slightly differ in their shade and tint even when making the same choice. On the other hand, this makes them even more adjustable to your window color. The numeric codes for the tints "Spruce" and "Light Spruce" are 550 and 325. Enjoy your custom-made windows, patio doors and entrance doors with selected high-end equipment and get inspired.
---
---
Colours for Eucalyptus Wood Casing
Eucalyptus is a popular wood species for windows and therefore also for casing The wood's natural colour varies from reddish brown to nearly dark red. If you wish to adapt the high-quality trim to the colour of your custom window, you can then again select several tints like two eucalyptus hues which emphasize the natural wood grain for even greater splendour. The colour range also includes chestnut glazes, walnut finishes and an elegant mahogany tint. Enjoy!
---
Purchase window casing at windows24